I've been dividing my time between my perch in the house and my nice big cage on the sun room. Sometimes I camp out, sometimes I come in to my little sleeping cage in the snake room. I have lots of places to go, and lots of different size perches so that my feet get plenty of exercise.
But, I still love to shred toilet paper cardboard rolls. No no no-I never forget the simple things that make me happy, happy, happy! Someone made me very happy this week, but I can't show you or tell you till next week....HAW! It makes me happy happy happy to tease you bit-like taunting the cat. Oh yes yes yes! That makes the cat soooooo mad. Here-kitty kitty kitty. Then "meow meow meeeeeoooooow". Haw haw haw!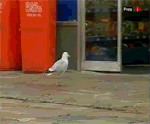 This picture made me laugh a bit-poor bird has to go get his own cheetos! Not me-I just say "apple" and viola, the woman brings me my apple apple apple!
Of course, I usually feel sorry for anyone that isn't ME ME MEEEEEEEEEEEEEEEEEEE! But I don't feel sorry for you-because you know me-and that's almost as good as being me! I hope you like being YOU just as much as I like being MEEEEEEEEEEEEEE! Mister Birdy Birdy Bird!!!! HAW